Chimes is the flagship building of the Chimes Group in Gurgaon. The project was awarded the LEED Gold Standard by the Indian Green Building Council. This section covers landscape and interiors of the Group's Offices and the building's common areas.
Design Team

Ashish Karode, Sushil Karer, Prosenjit, Gautam, Utsav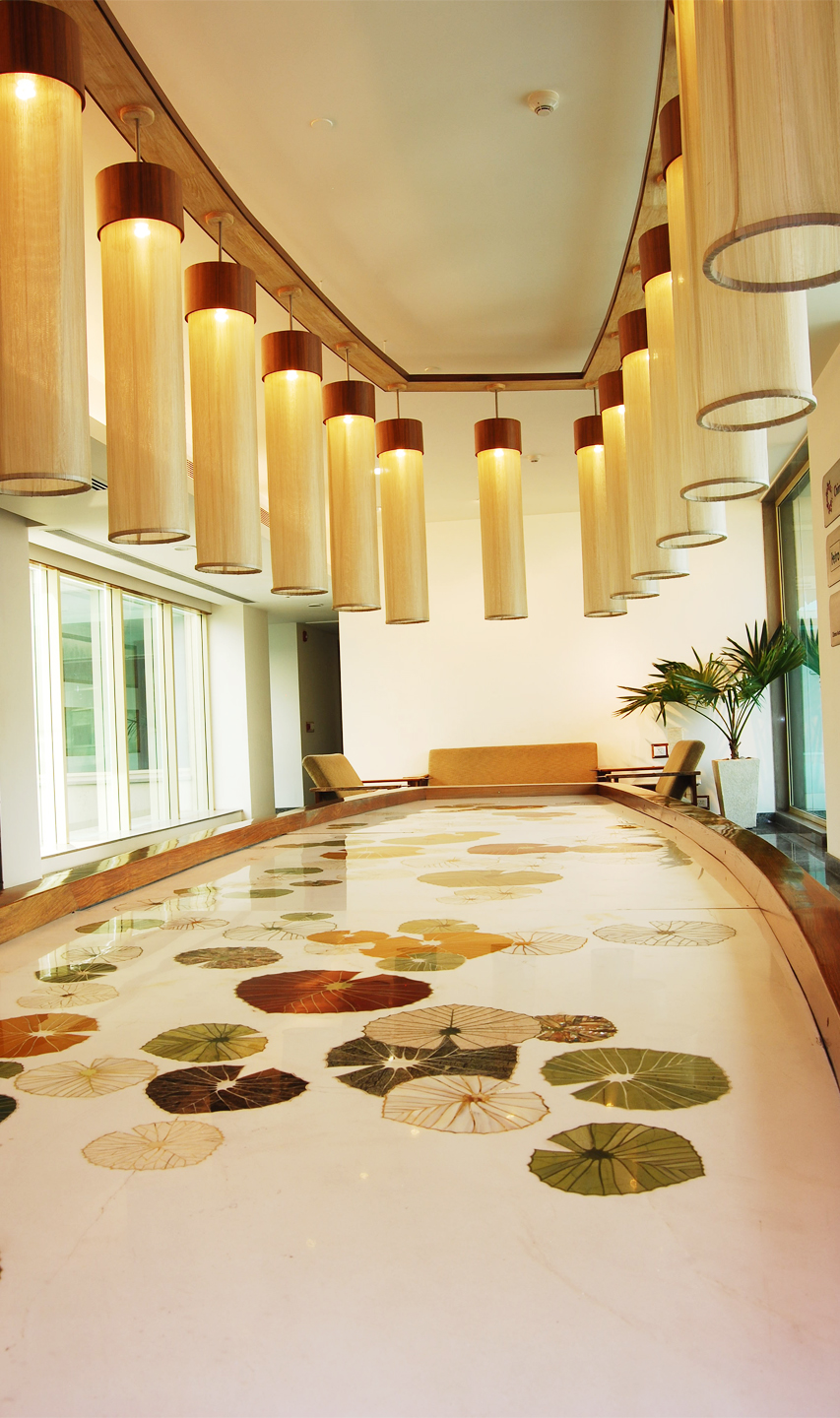 Artwork from Chimes collection by Kaaru.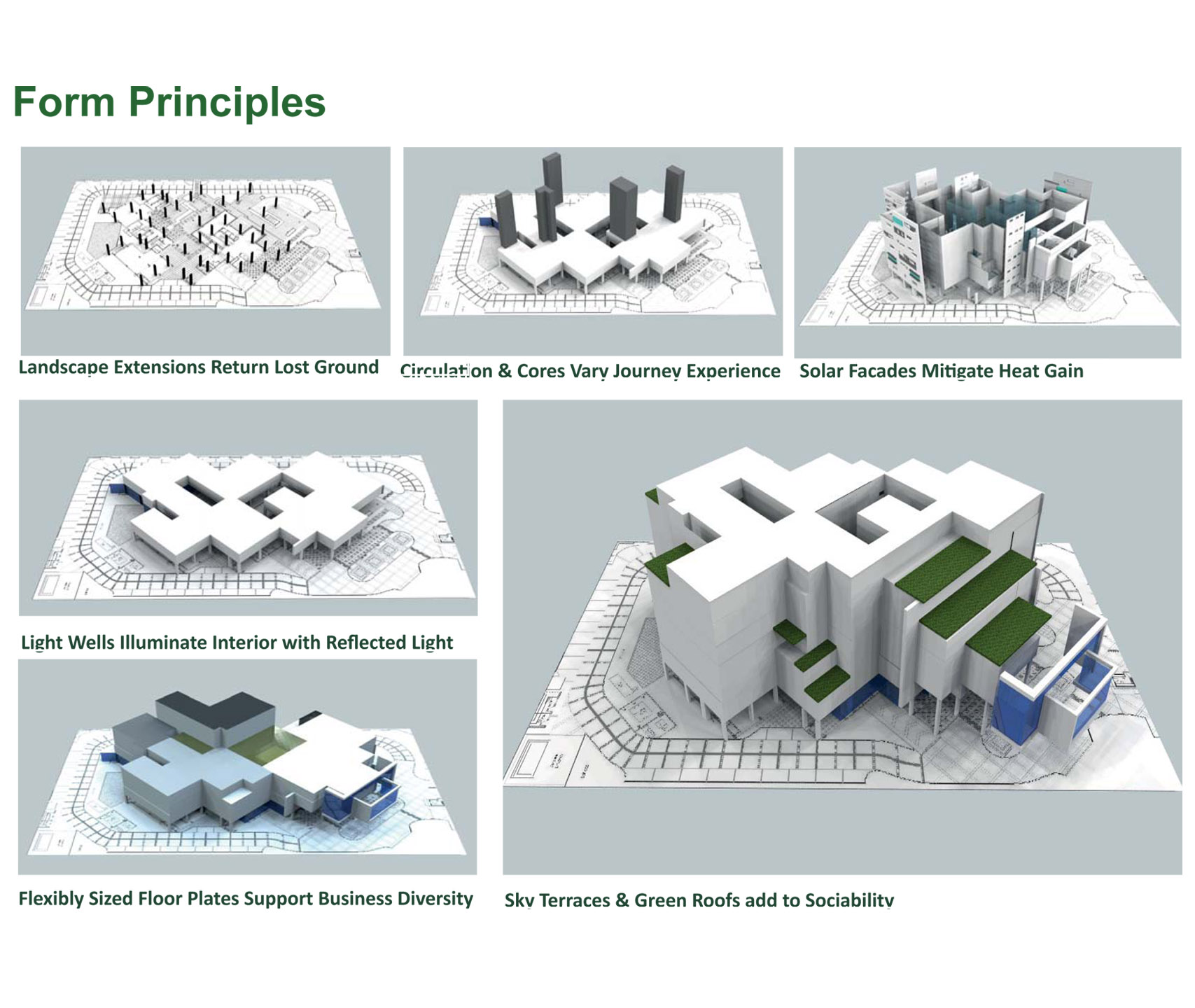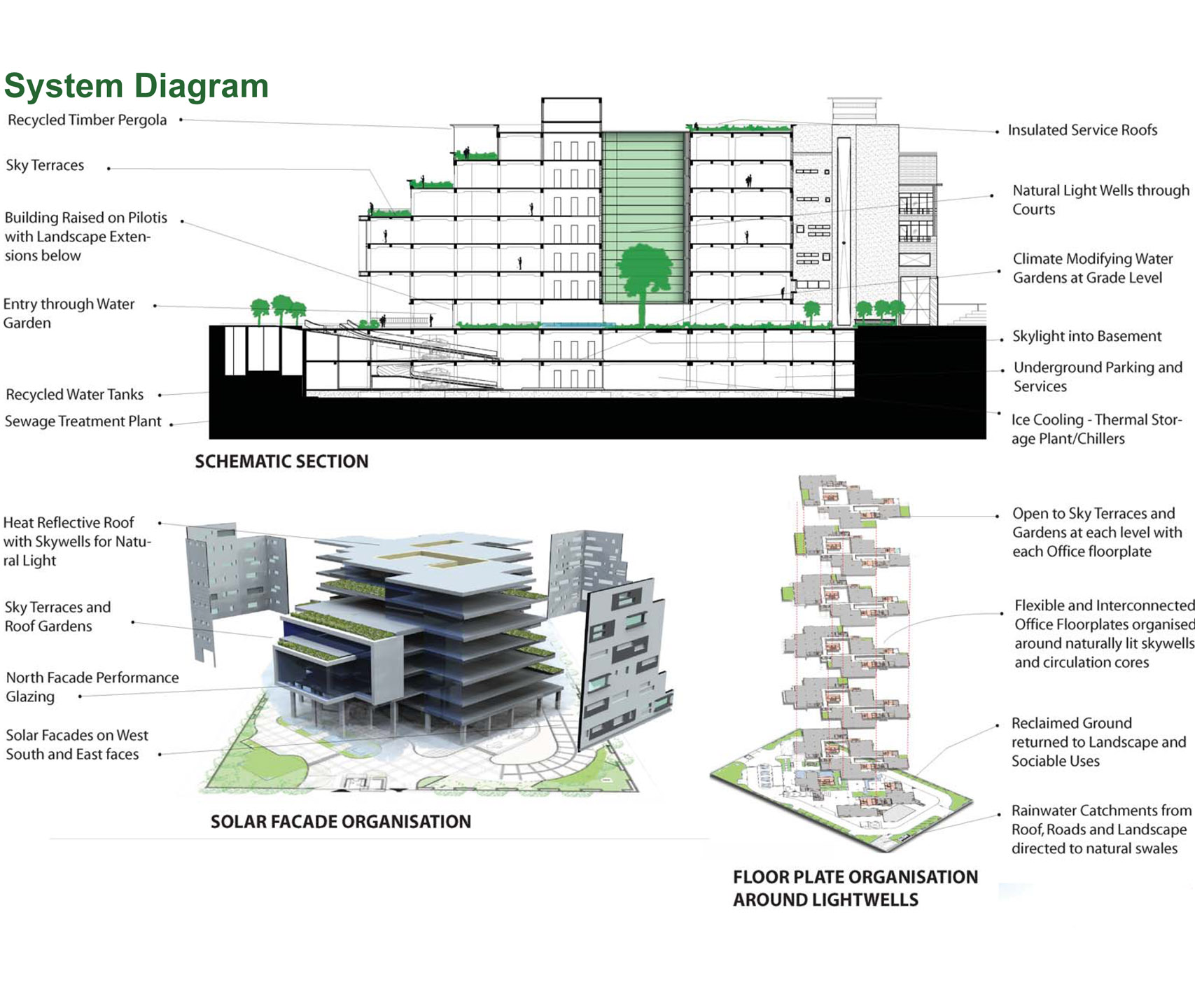 Chimes design demonstrates a novel solution for a multi-tenanted office building with flexible floor plate size, that creates a mix of tenants from various sectors. To create a high profile address, each floor is designed as a potentially heterogeneous open-plan environment that can be combined or separated by user request to suit a variety of needs for large and small businesses.The building is about creating public spaces that are accessible and enable the experience of nature within the building, symbolizing universal life principles.
– Aashish Karode / Creative Director
Chimes emphasizes diversity: juxtapositions of people, functions, forms, spaces, elements that help encourage an inclusive sociability to thrive. At the ground level, a variety of public spaces are created that are accessible, shaded and close to nature.  The public areas including a restaurant/café are located on the ground floor, with smaller spaces to encourage people to meet spontaneously for coffee or for informal meetings.
Chimes gives back the landscape to the ground-creating a sociable and welcoming space of the entrance reception- a glass cube set in a water garden, using plants as tree cover and water as climate modulators. A variety of water bodies and plants growing around and inside the building, cool the ground and transform it into a space with positive energy, shaded social spaces, and graded light. Open spaces and light wells work as courtyards that relieve the bulk of the form and supply natural light to the inside of the office floor plates.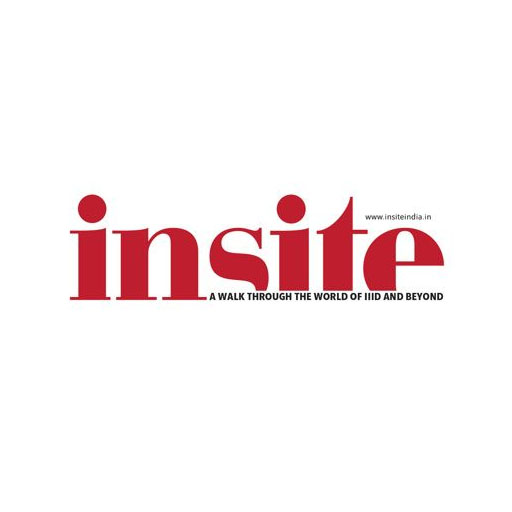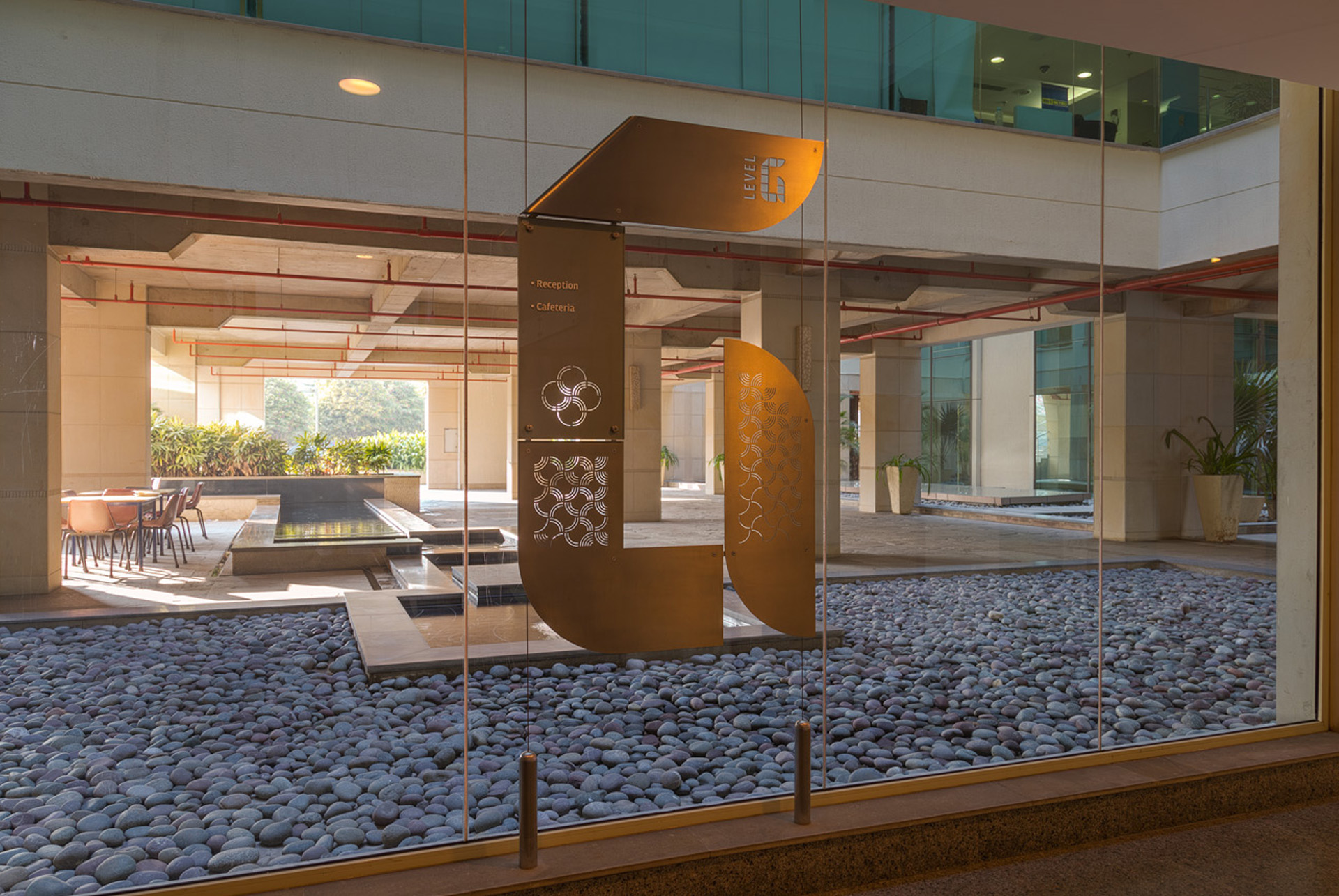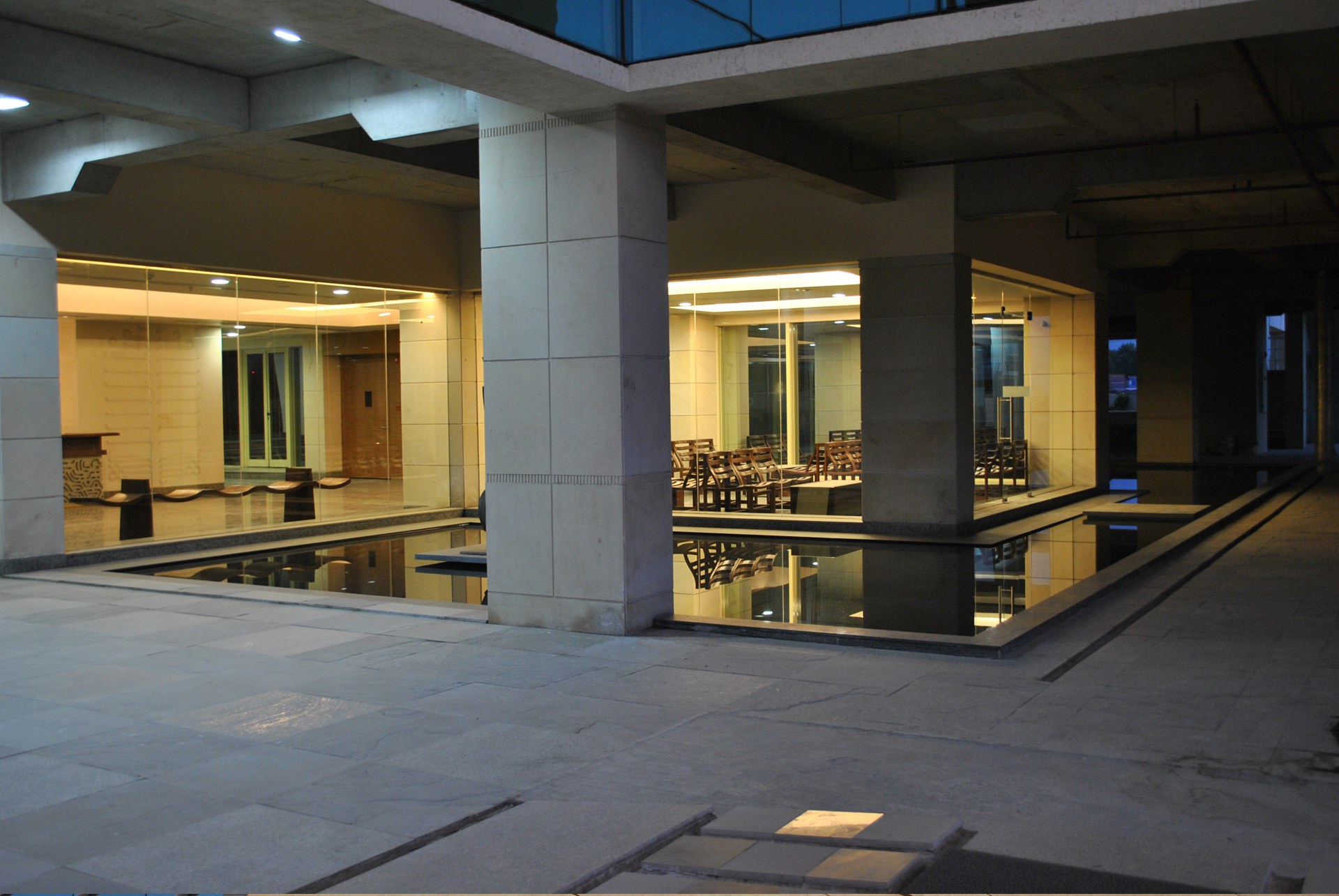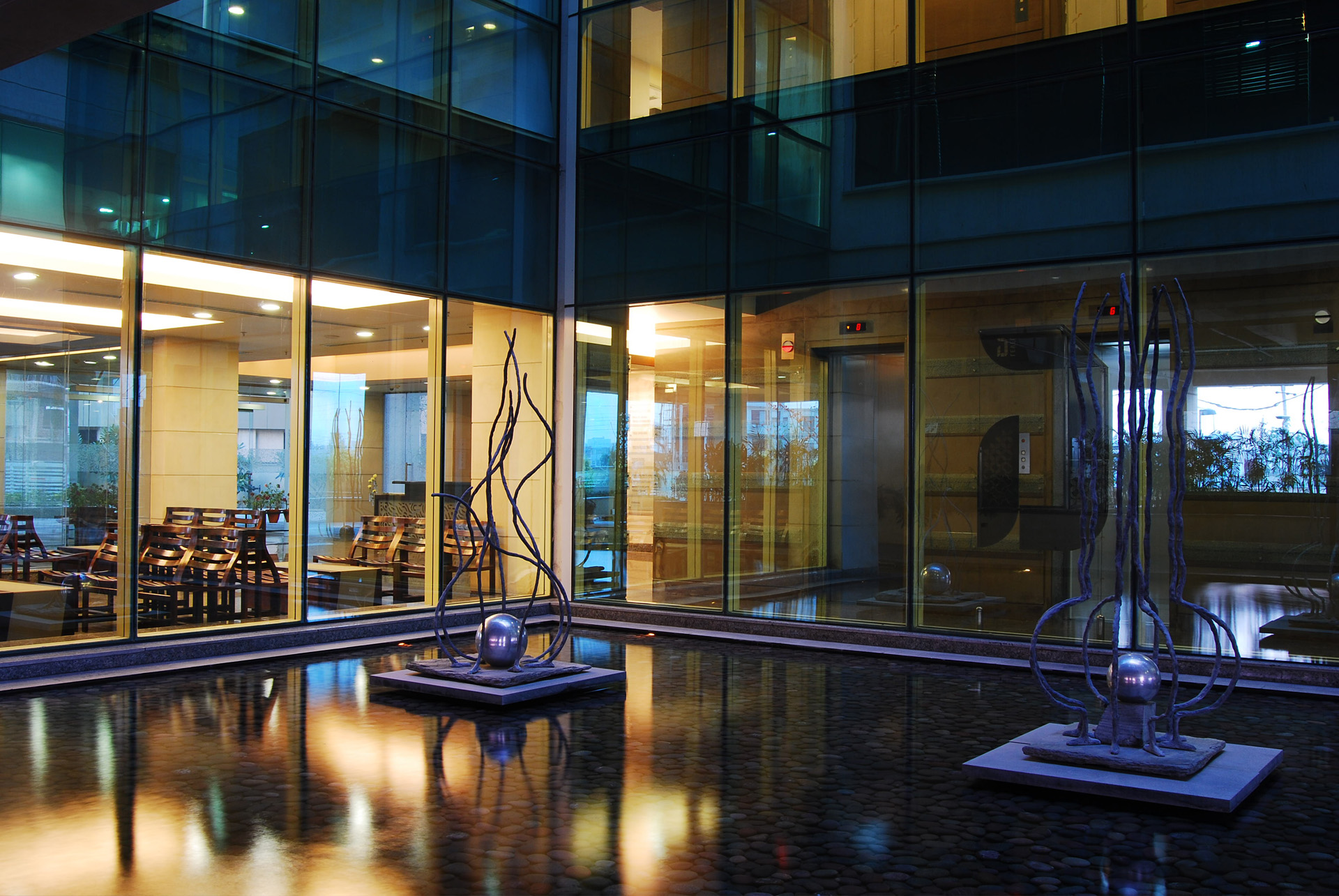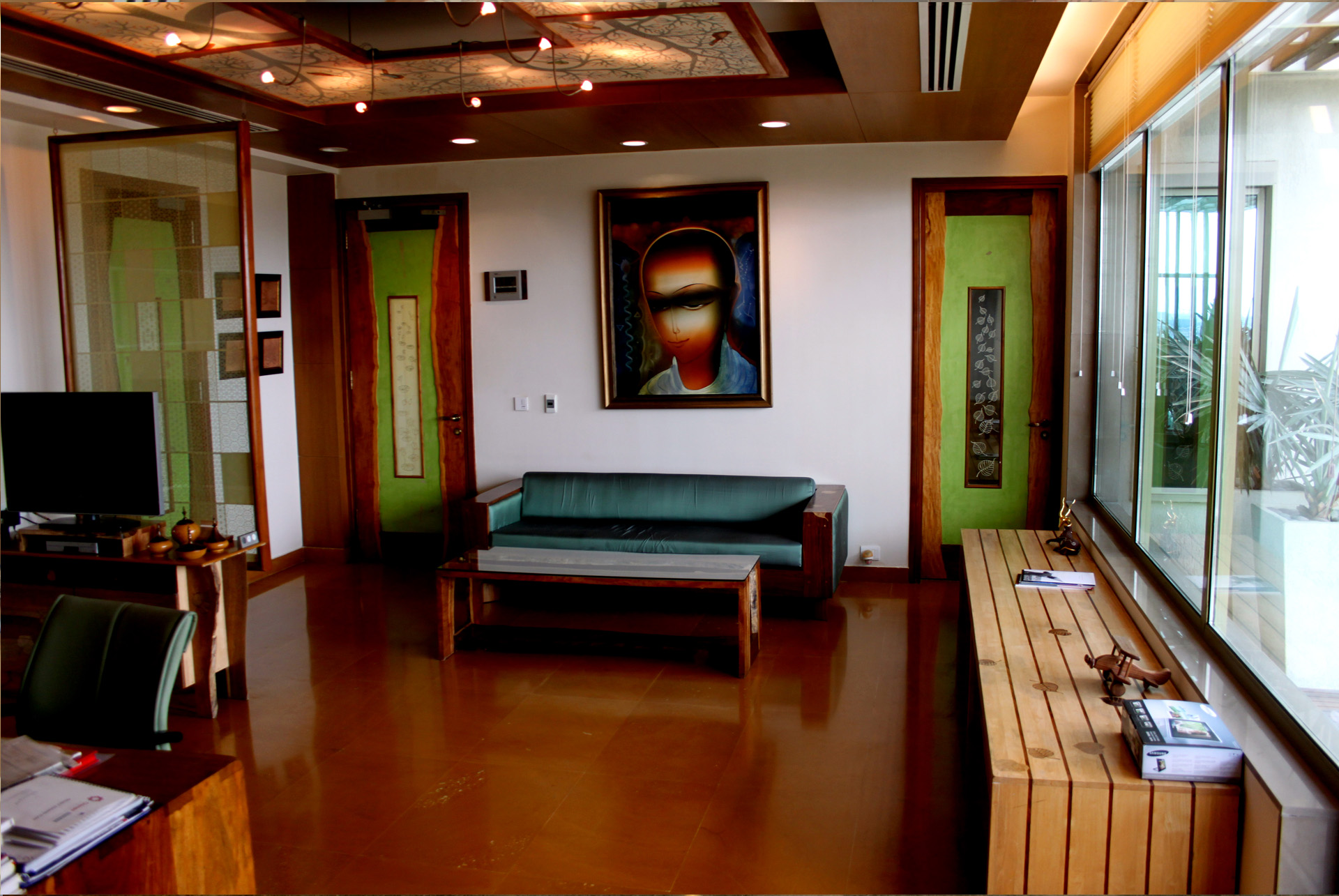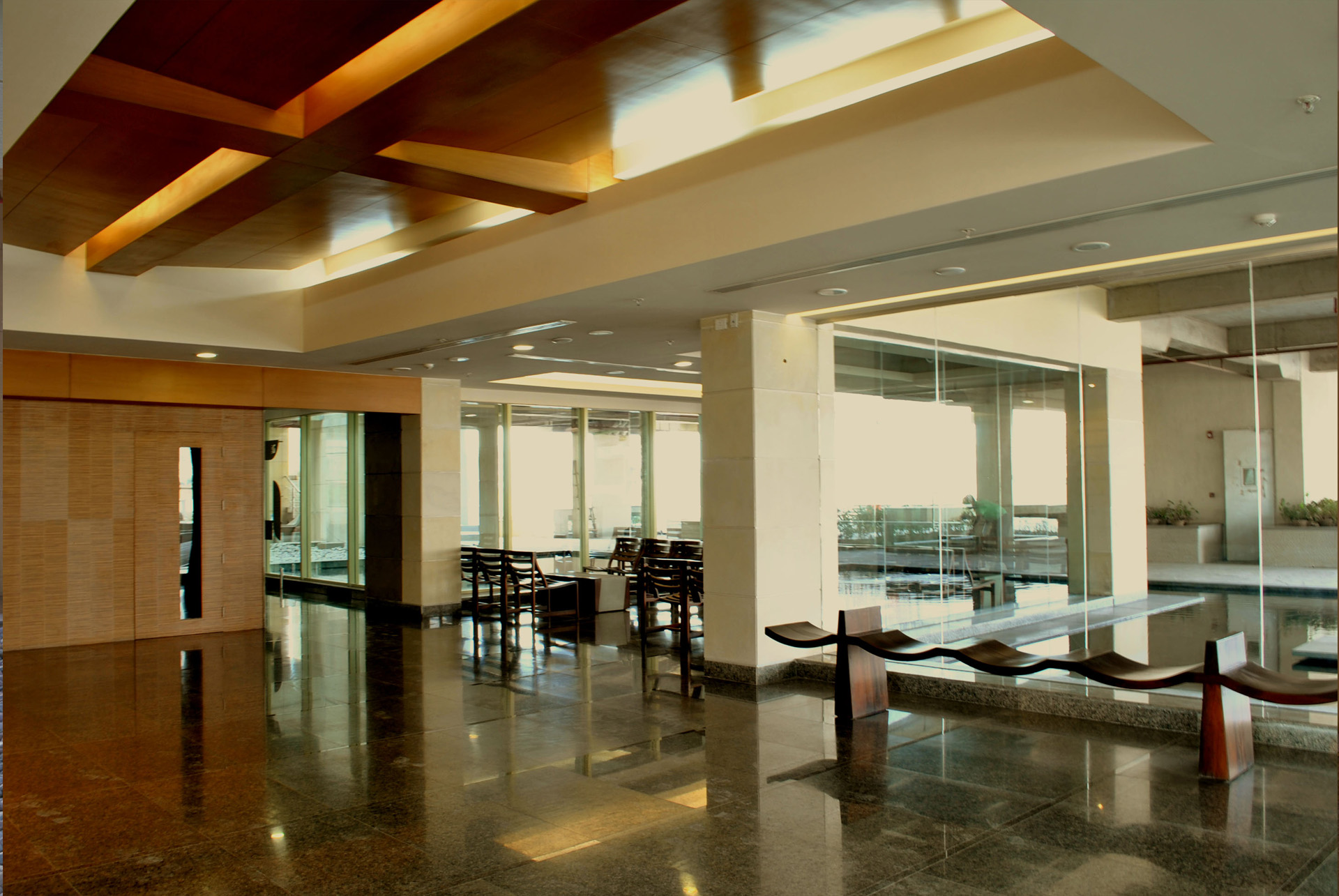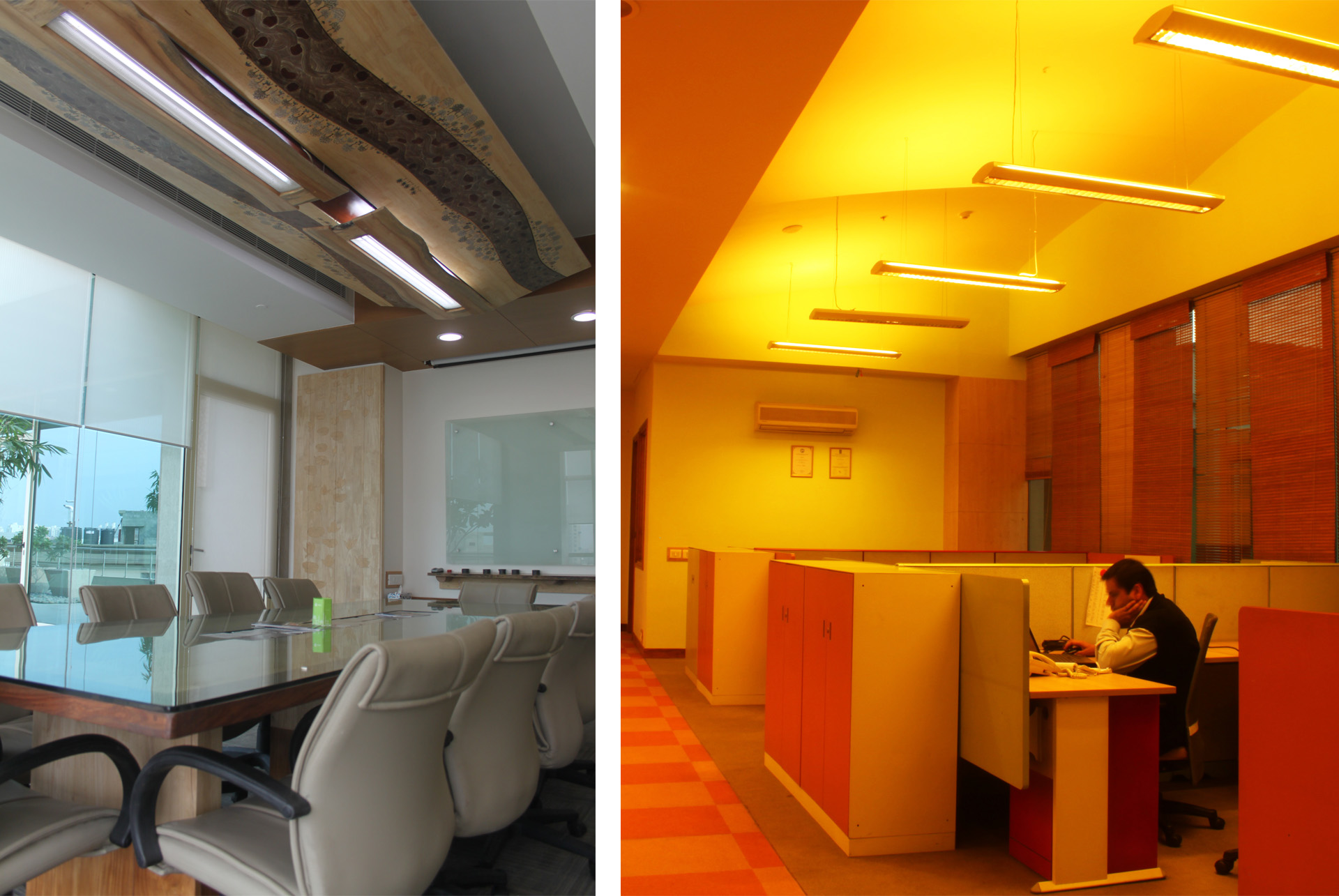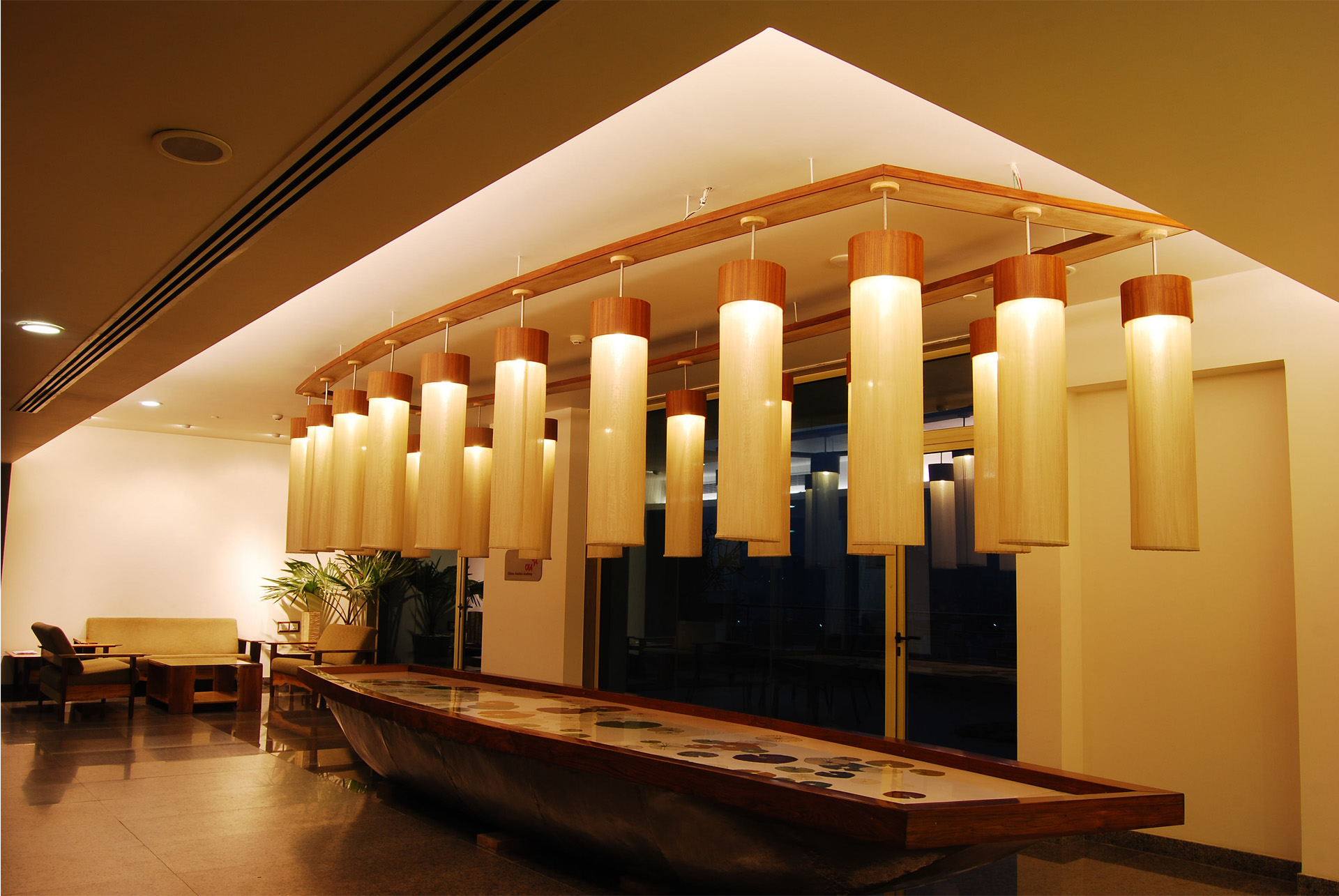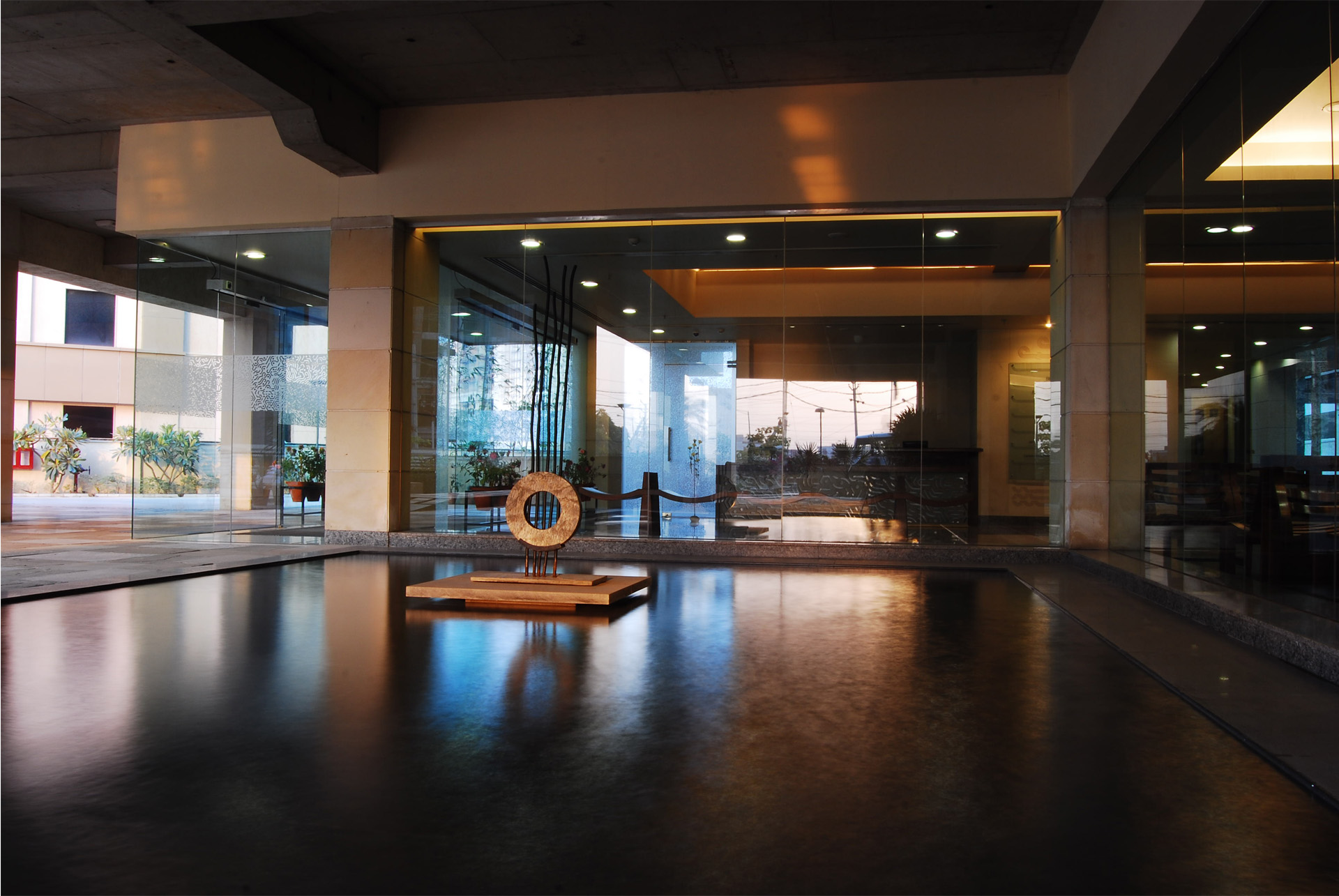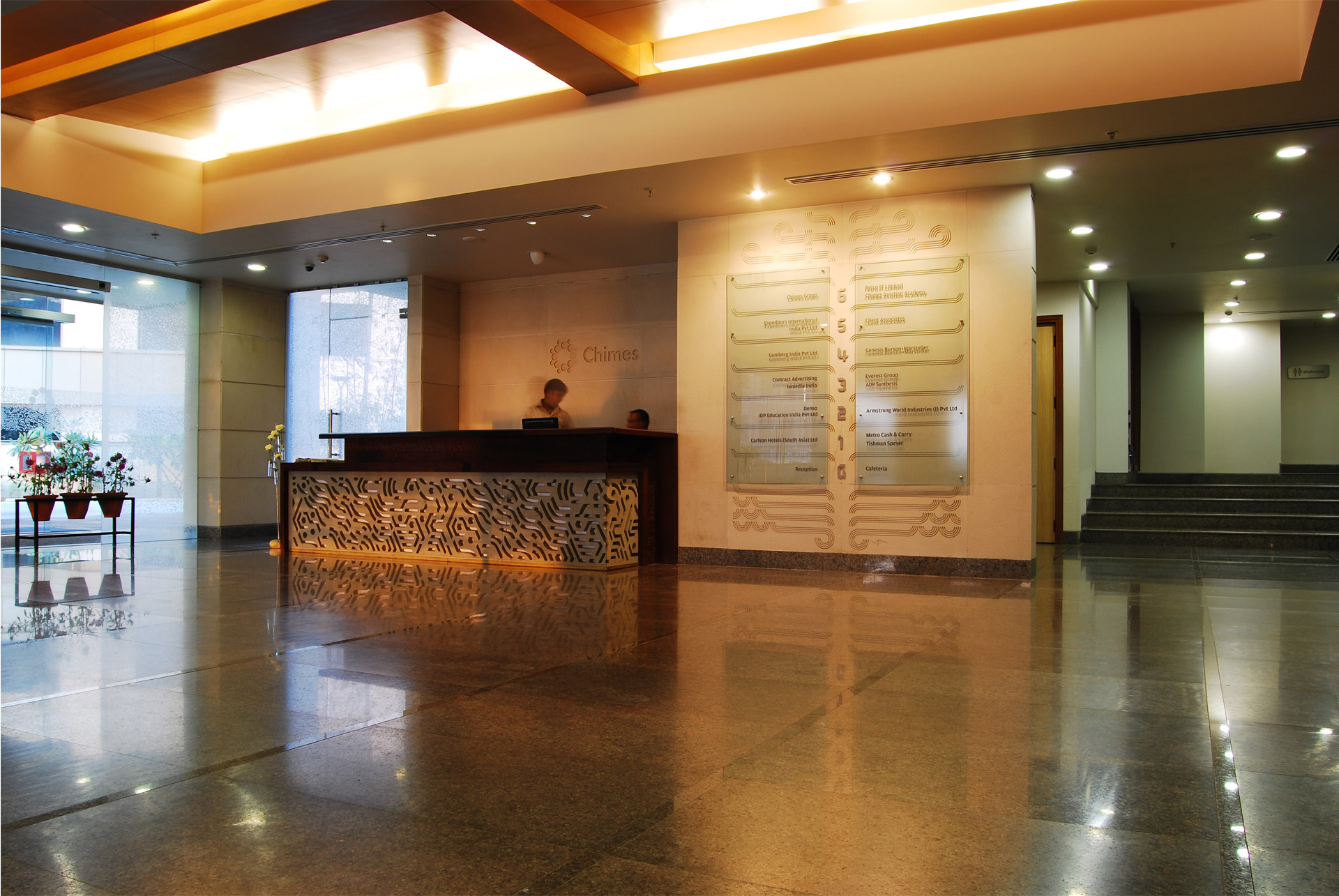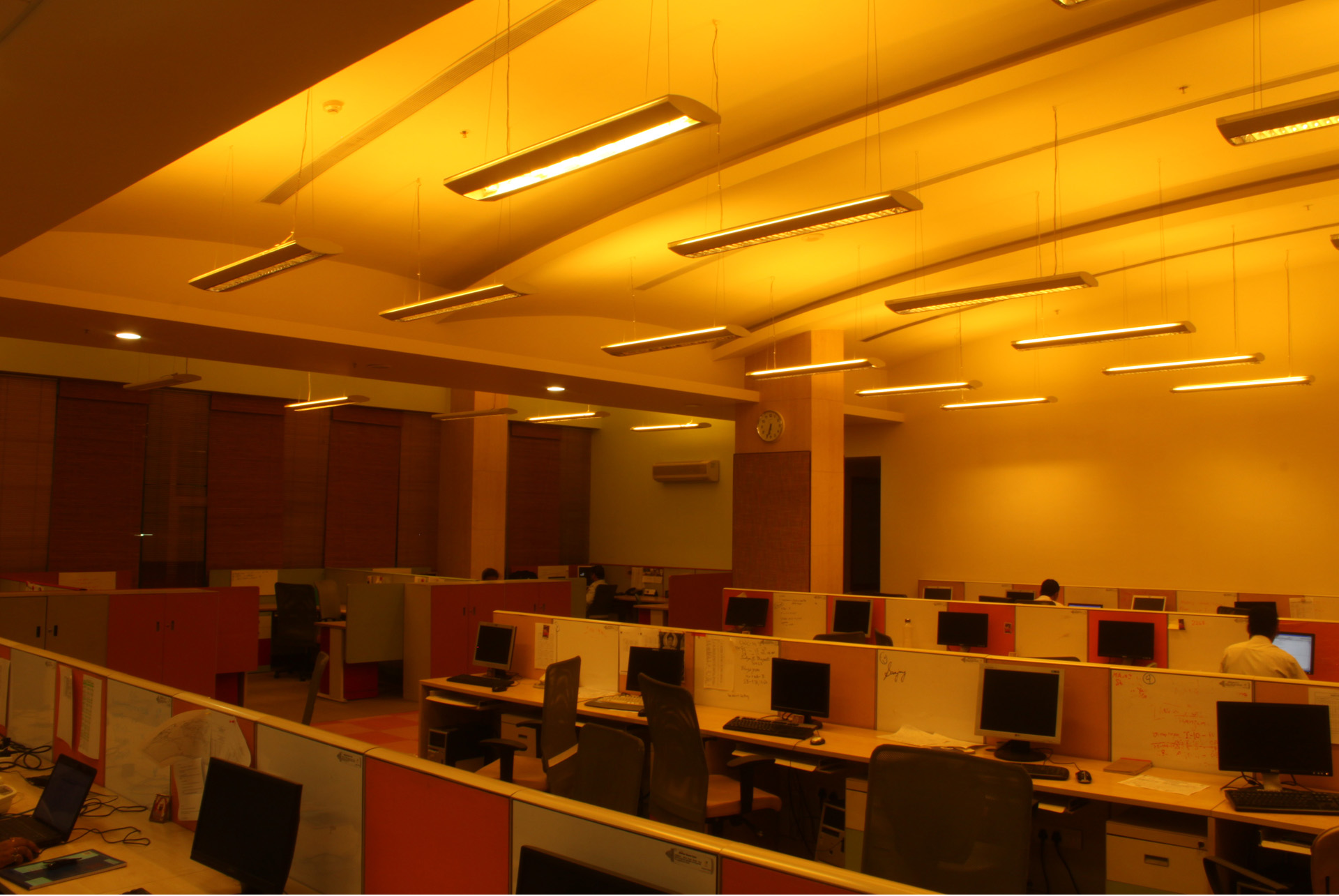 Credits: Graphics by CoDesign, Artwork by Kaaru.
Landscape is Integral to the life of the building
The journey path through the spaces of the building are located along greened views and people places, diversified by an experience of landscape variations that includes air, earth, water, plant and animal life (etched into the stone surfaces).Various spaces for public functions are offered- an open air performing arts theatre, a cafeteria, and exhibition space. These spaces encourage serendipitous meetings, foster community engagement that enhance the concept of openness, spaces flowing together play a major role in the design.
Glass is used to visually connect the interior, so people do not lose touch with the natural environment while at work. Outsiders get curious glimpses of light and activity through the façade that activates the otherwise solid building as a place of action.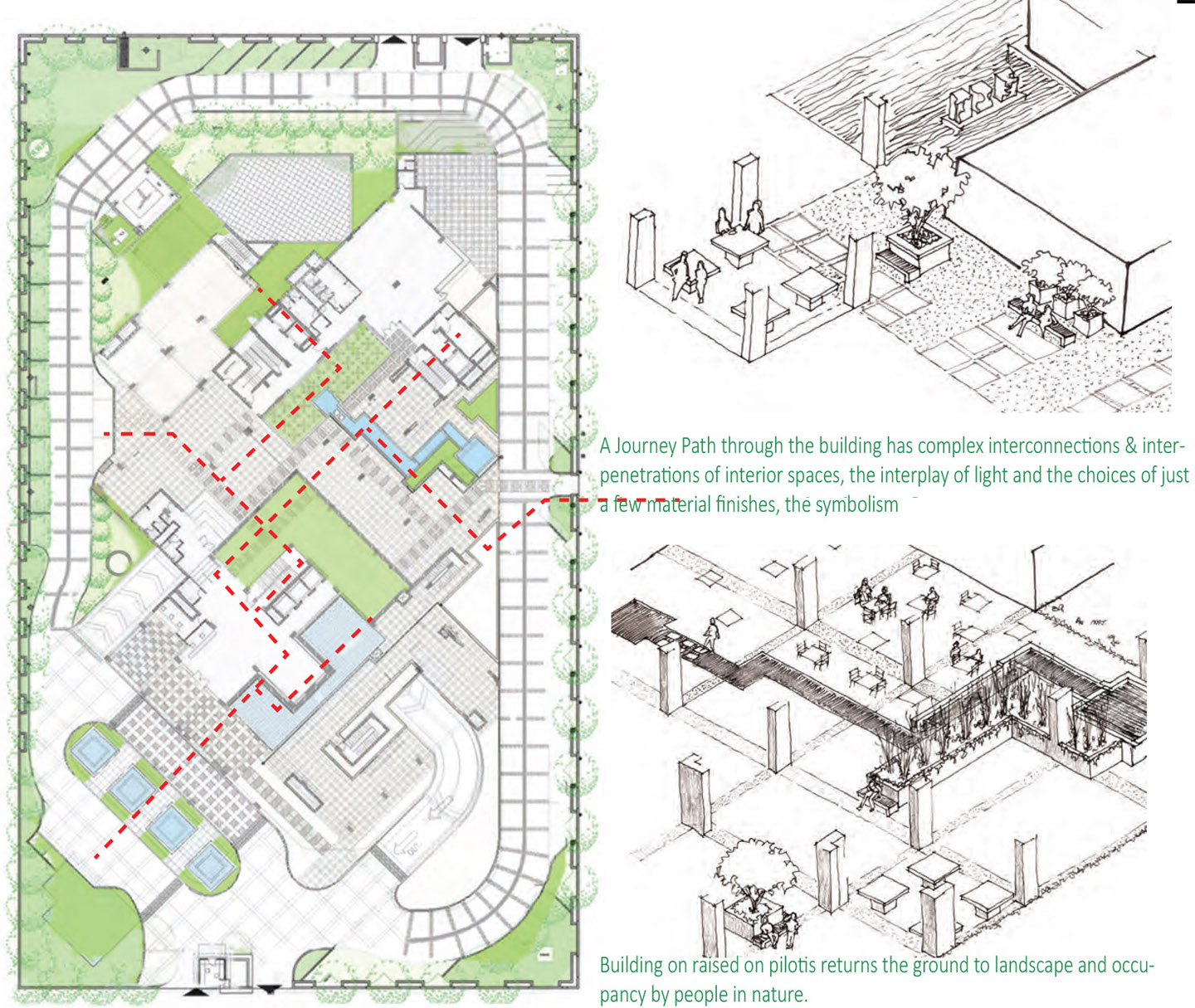 Landscape Credits: Artemesia Landscape Architecture.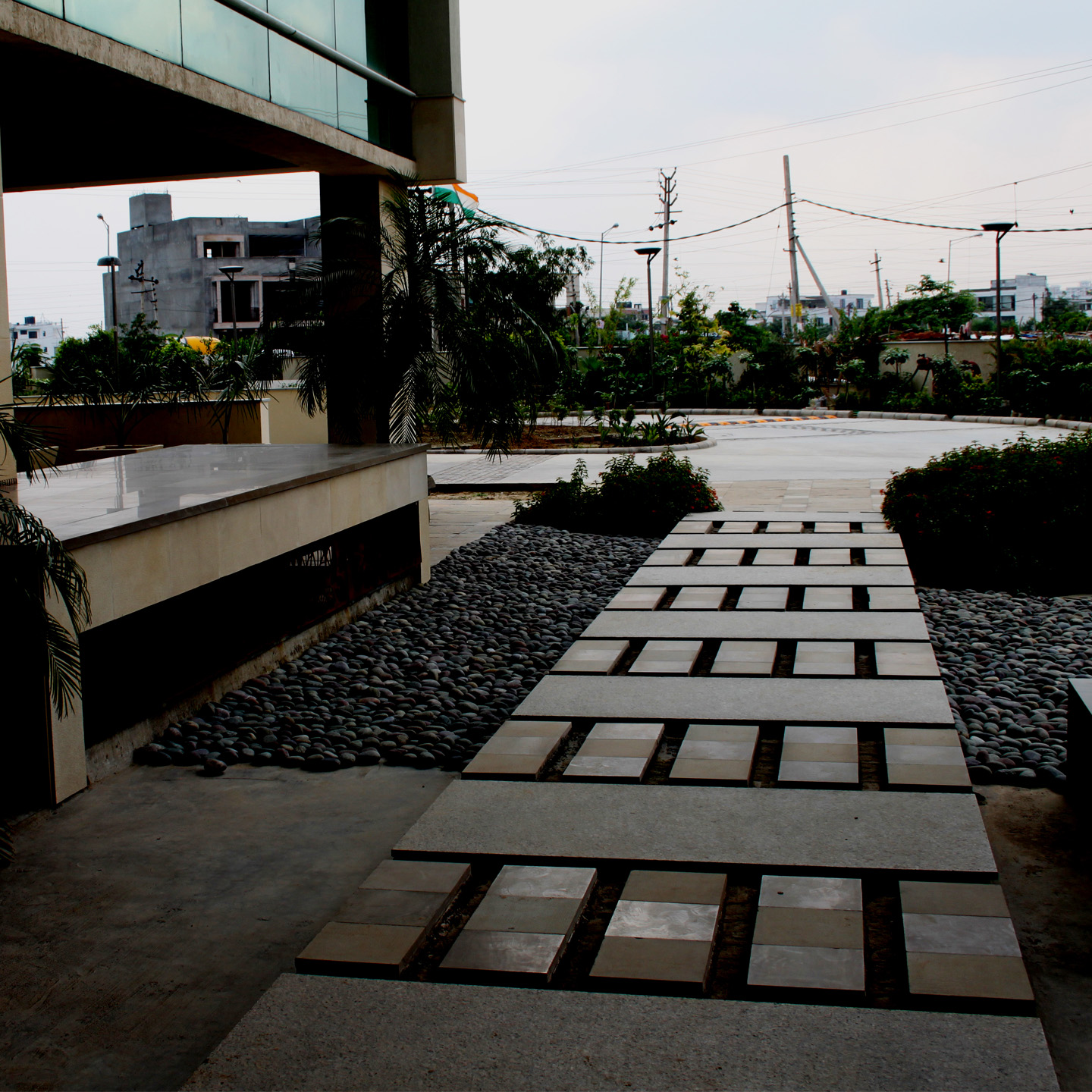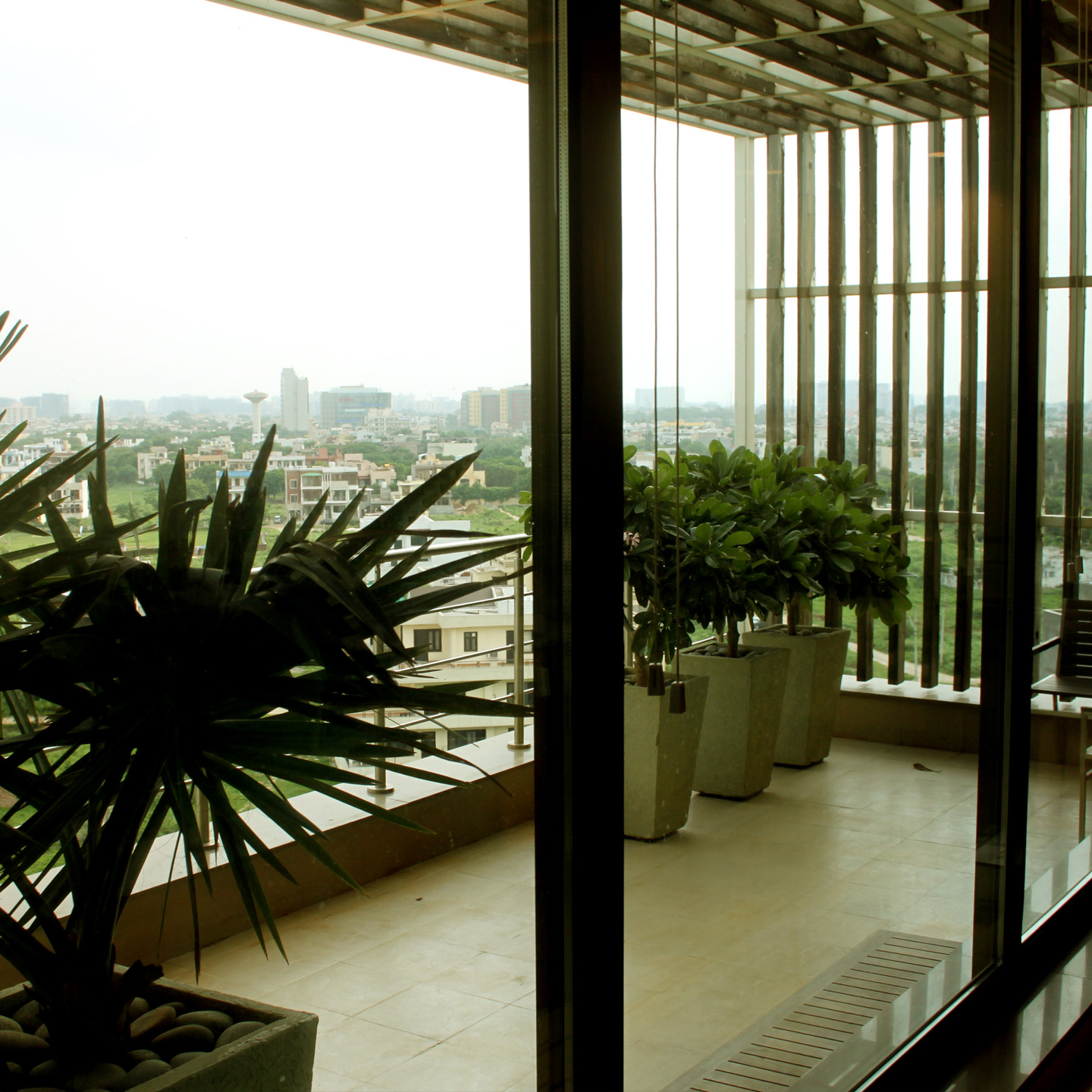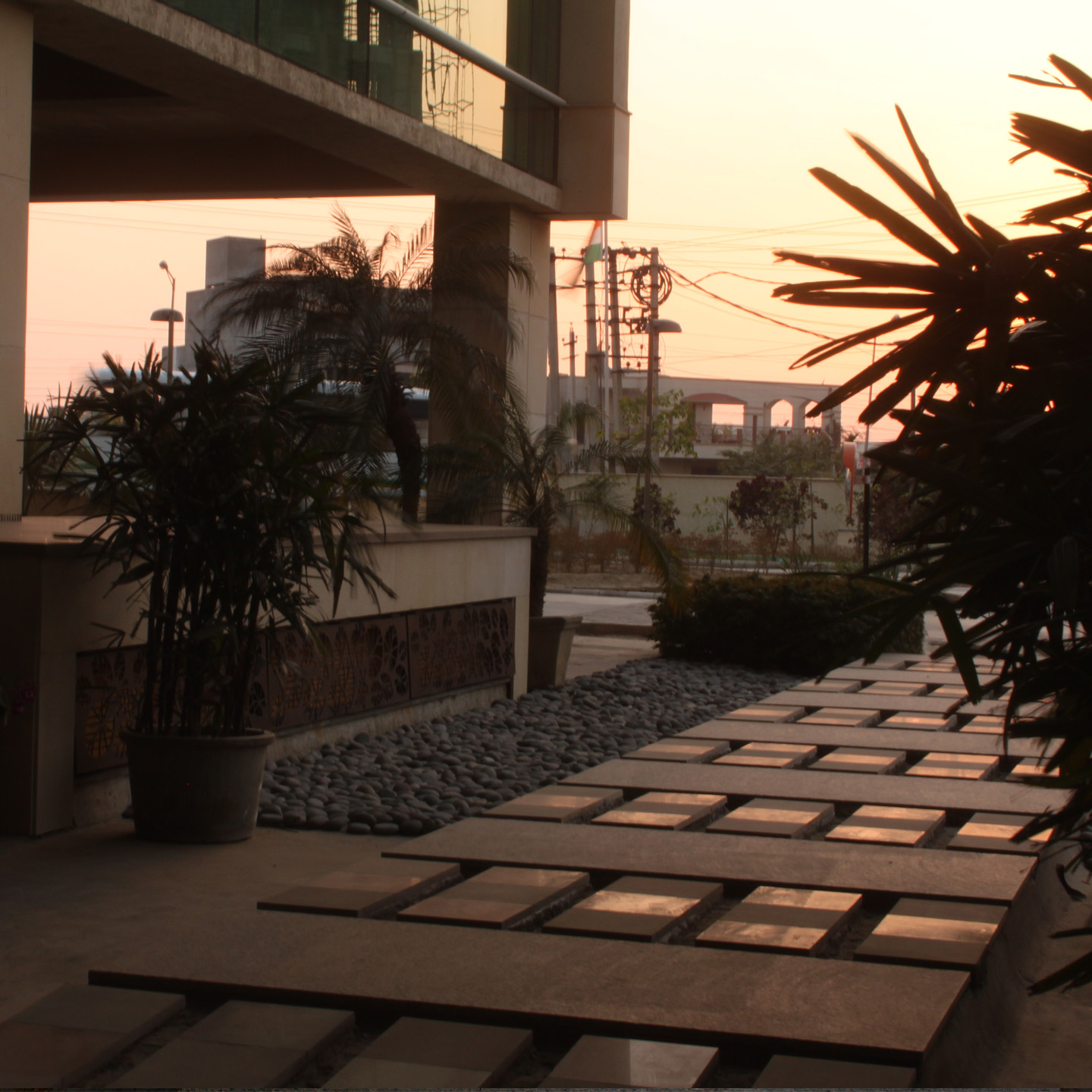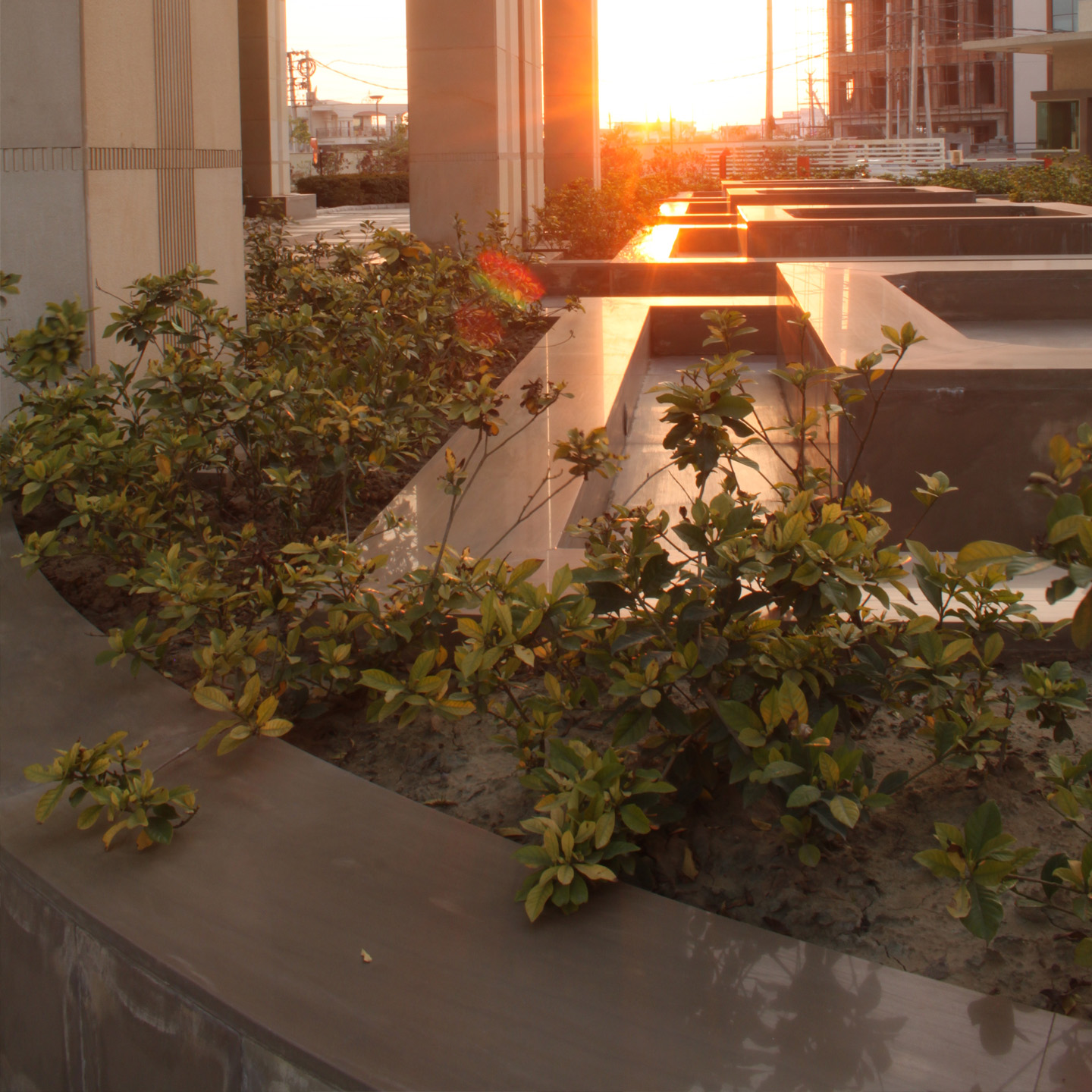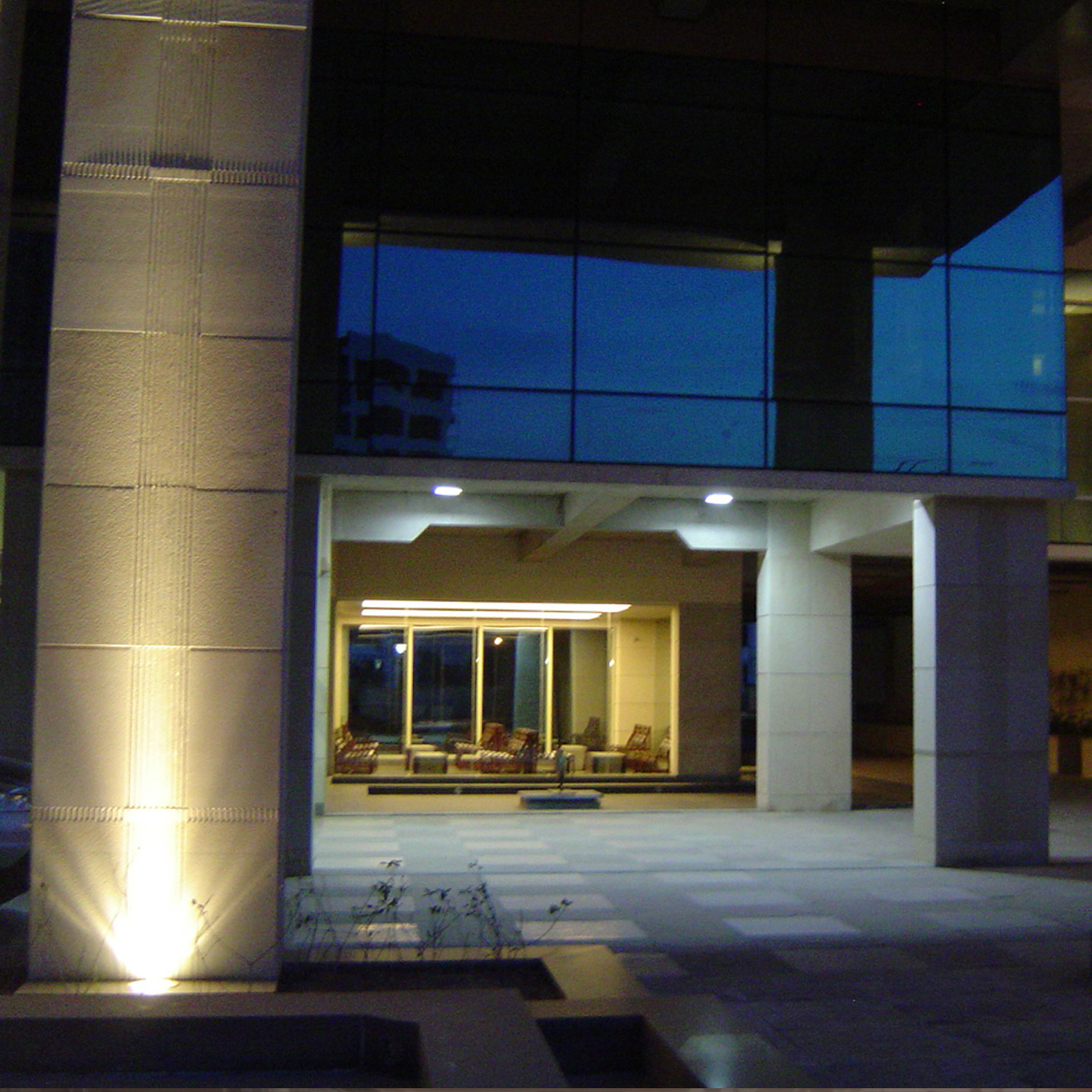 The Landscape affords a delicate biophilic approach where textures and colours are curated into a minimal architectural presentation. We work to  create a sense of visual pureness, and the interaction of different building masses presents an appealing change of sunlight and shadow.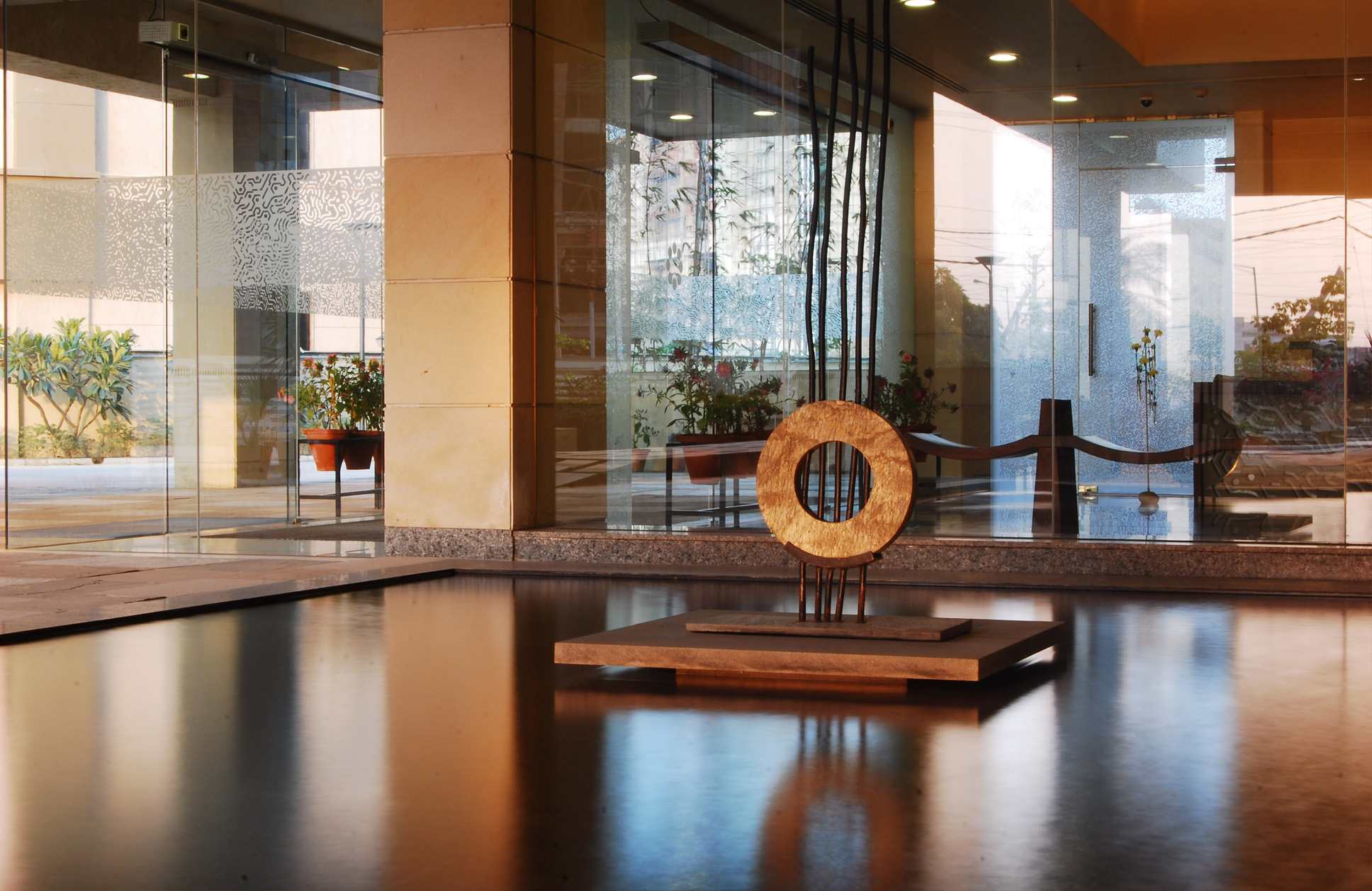 Institutions: Designing vibrant and sustainable public spaces
Sustainability is achieved by a careful process of  meeting needs that go beyond simply material needs. It includes values, relationships, freedom to think, act, and participate, all amounting to sustainable living, morally, and spiritually.
Low "Carbon Footprint": The architecture is used to develop the building marked by energy efficiency, operational convenience, low operational cost and optimized investment costs. It focuses not only on the façade, sun shading, and lighting details but above all, also on minimizing the energy consumption of the building while optimizing natural light consumption.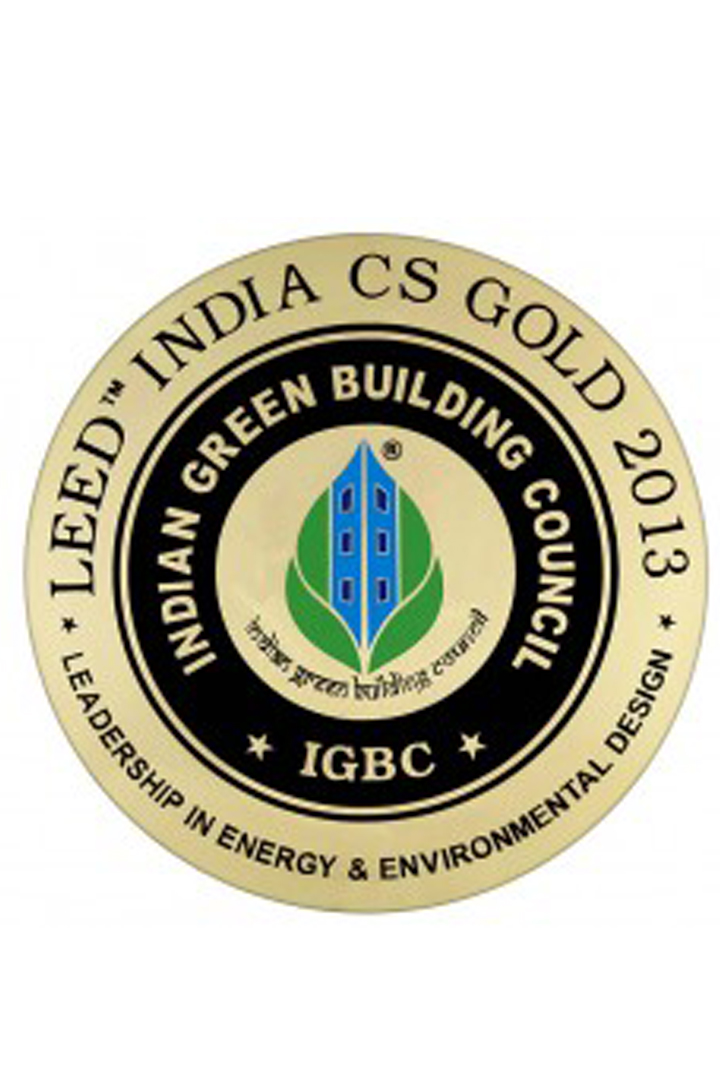 Some Figures for this Project
Chimes adds artworks and plants to transform it into a space with positive energy, social spaces, and graded light. Open spaces and light wells work as repositories for art that also fill the space with light to the inside of the office floor plates.