Polyplex Township
Bazpur, Uttarakhand
Design Atelier explored the potential of the concept of the Industrial township in small towns with Industrial jobs and developed stable industry. The development plan envisions various units types and modules for different workforce sections as well as necessary amenities, play areas, infrastructure and open spaces. The project demonstrates a high-standard, sustainable quality of life amongst various sections of users.
Client

Polyplex Corporation Ltd
Design Team

Sushil Karer, Ashish Karode, Madhvi, Prosenjit , Vivek Srivastava, Jaspal Singh, Abdul Bari, Savai Mistry
As major cities are straining current infrastructure and adding to inflationary pressure, it seems logical to embrace the idea where the shifting necessities and standard of living require companies to develop their own townships at remote Industrial locations with facilities including schools, hospitals, shopping, gymnasium, health facilities - to provide the unique living experience- to facilitate better quality lifestyles that people demand these days.
– Sushil Karer / Creative Director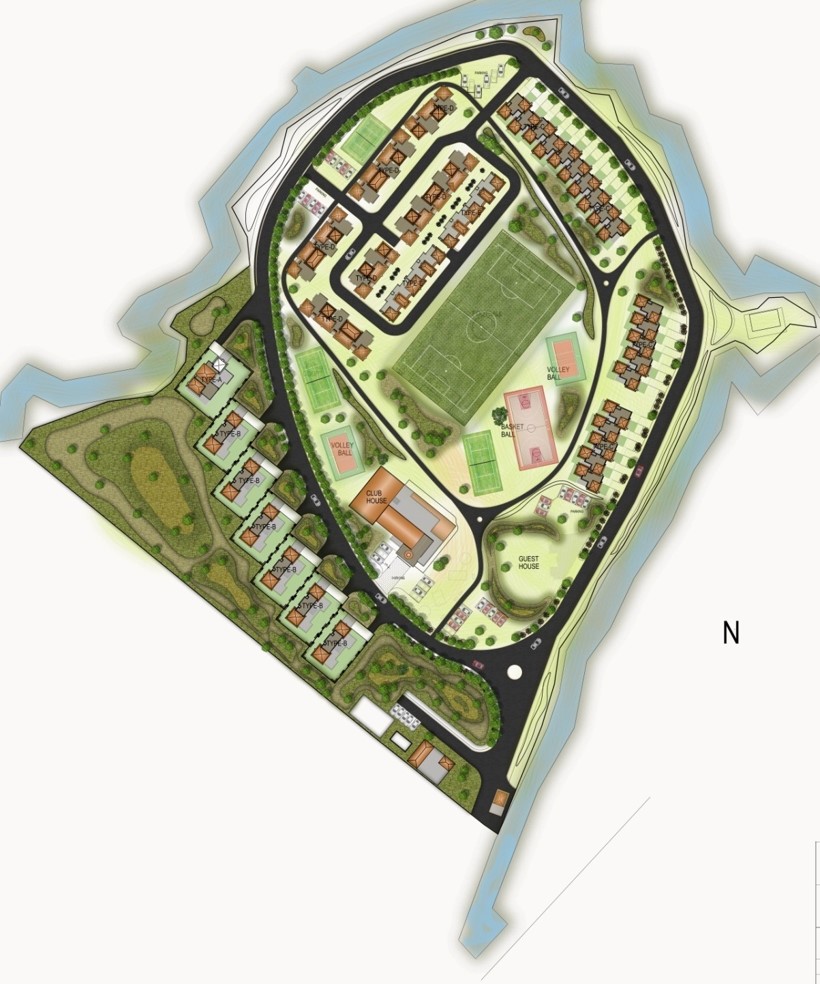 Buildings are clustered such that they are mutually shaded, leading to reduced the heat gain to buildings. The residential units have deep shades and balconies are provided to shade the fenestration, with the Window to Wall ratio is 60% (lower than the maximum permitted by ECBC. Appropriate external shading was recommended to meet the effective SHGC.
Why Sustainability
Storm Water Management and Climate Change Adaptation was planned at the outset, where we designed the concept around directing and collecting storm water on the site while providing large permeable surfaces, reducing hard paving on site to reduce runoff. Increasing infiltration and reducing heat Island effect and ensured that the entire rainwater falling on the site was recharged. We prepared for flooding by extensive rainwater harvesting and grading of Land to manage water and control erosion. The means of recharge were Vegetated Swales, Percolation Pits,Harvest incident rain & reinforce passive drainage, Maximized soft soil to allow infiltration and recharge,